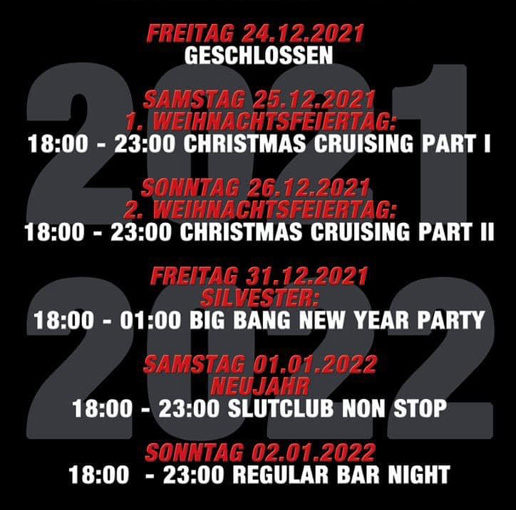 Corona-Update 25.12.2021
Liebe Gäste,

auf Grund der erneut eingeführten Sperrstunde für die Gastronomie in Hamburg müssen wir unsere Öffnungszeiten erneut anpassen. Bis auf Weiteres haben wir daher wie folgt geöffnet:

Mi-So: 18.00-23.00h regulärer Barbetrieb
Ausnahme Fr, 31.12.2021: 18.00-01.00h

Wir danken allen unseren Gästen für die Unterstützung in den letzten 2 Jahren und hoffen bald wieder mit unserem regulärem Programm und Öffnungszeiten für euch da sein zu können!

Euer SlutClub-Team
Corona-Update Dec, 25th 2021
Dear guests,

Due to the newly introduced curfew for restaurants in Hamburg, we have to adjust our opening times again. Until further notice, we are therefore open as follows:

Wed-Sun: 6 p.m.-11 p.m. regular bar
Exception Fri, December 31, 2021: 6 p.m. to 1 a.m.

We would like to thank all of our guests for their support over the past 2 years and hope to be there for you again soon with our regular program and opening times!

Your SlutClub-Team